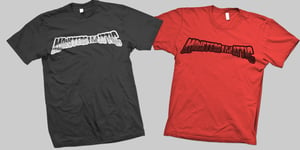 £

8.00
Its all down to you whether you'd like our logo displayed proudly across your chest on red or a black shirt.



These shirts are slightly fitted to add simple shape. But don't worry as the small ones look lovely on the ladies and large ones can disguise that beer belly of yours.



This is a finely hand printed garment on ethically sourced shirts. No Monsters were hurt making this shirt.